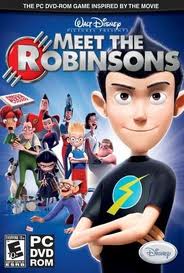 Meet the Robinsons is the video game adaptation of film of the same name, though the game features a completely different story than the film itself. You play as Wilber Robinson who doe's whatever it takes to restore the space time continumim along with an anersal of gadgets.
Wilbur Robinson travels back to the science fair to catch Goob, who took his time machine. But Wilbur causes acidents, turning Stanley into an evil ruler of the future with an army of lava robots and Lizzie into a gothic queen of the robotic ants, and after that, he even makes the future be rulen by Goob and has to battle Mega-Doris.
Ancient Egypt
Edit
Travel to Ancient Egypt with Wilbur before the Time Machine is stolen
The Robinson Home
Edit
Attempt to 'borrow' the Time Machine
The Robinson Sub-Basement
Edit
Use your wits to locate Cornelius Robinson's Timelab
Science Fair
Edit
Locate the mystirious Time Machine thief before time runs out
Alternate Future
Edit
Return from the Science Fair to a world of danger
Battle Mega-Doris
Edit
Battle Mega-Doris to save the future
Gear (Nentindo DS)
Edit
Ad blocker interference detected!
Wikia is a free-to-use site that makes money from advertising. We have a modified experience for viewers using ad blockers

Wikia is not accessible if you've made further modifications. Remove the custom ad blocker rule(s) and the page will load as expected.